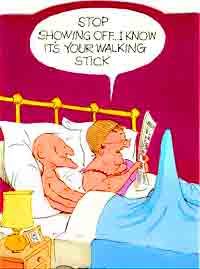 This story
from
Kim
proves that you never get too old for sex or to
get a little freaky
, but you should try not to disturb the neighbors! Great story, gave me my giggle for the day.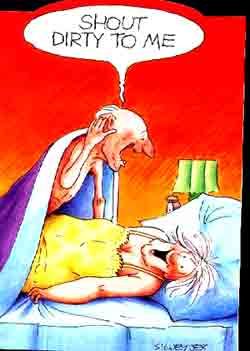 The write up about an
Oldsters Orgy
over at
Suddenly Senior
is a hoot, too. According to the article....
"three wrinkly Romeos and six sagging seductresses ranging in age from 73 to 98 gathered together in the rec room and stripped to the buff".
The nursing home staff found them
"surrounded by candles and dressed in their birthday suits slathered with baby oil, the horny nine were wing-dinging in dusty corners".
Go and read the whole thing, I promise you won't be able to keep from laughing! Gives a whole new meaning to the term "Granny Panties".
Nice to know that I have something to look forward too!! Trouble is, we women out number men already and the guys generally die at a younger age. So the older I get, the slimmer the pickings will be. I'll just have to date younger men, I guess. Hey, when I'm 60 can I have two 30 year-old men?? The arithmetic works!