I just took the
short version
of the
Riso-Hudson Enneagram Type Indicator (RHETI)
personality test. The
Enneagram
is one of the newest personality systems in use, and emphasizes psychological motivations.
While I agree with a lot of this, some of it is way off the mark. For better or worse, here are my results.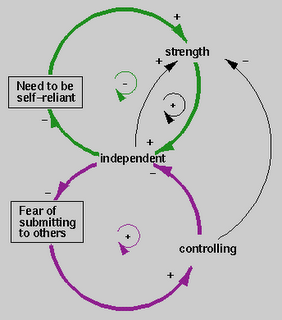 TYPE 8: LEADERWorld View:
The world is an unjust place. I am strong and I defend the innocent.
Basic Desire:
to be self-reliant
Basic Fear:
of submitting to others
Healthy loop controlled by Basic Desire:
Need to be self-reliant -> strength -> independent -> Need to be self-reliant
In the healthy state,
the need to be self-reliant induces Type Eights to become stronger and capable of defending others. When Eights are independent, their need is satisfied and a balance is reached.
In the average state,
when Eights' are not building their strength as much, they will become more dependent on others for certain needs. This increases the need to be self-reliant, which helps Eights to again work hard to become strong. Thus the balancing loop can help Eights to recover.
Unhealthy loop controlled by Basic Fear:
Fear of submitting to others -> controlling -> independent -> Fear of submitting to others
In the unhealthy state,
the basic fear of submitting to others can cause Type Eights to lash out and try to control others as a defense. This unfortunately make them ironically more dependent on others, which further increases Eights' basic fear. The cycle continues to build up.
Insight:
We can see from the diagram that a way to help break the control of the basic fear is to weaken the unhealthy loop. Eights can refrain from controlling others but start to strengthen themselves instead. This will naturally make them more independent and thus reduce the fear of submitting to others.
The Asserter (the Eight)

Asserters are direct, self-reliant, self-confident, and protective.
How to Get Along with Me

Stand up for yourself... and me.
Be confident, strong, and direct.
Don't gossip about me or betray my trust.
Be vulnerable and share your feelings. See and acknowledge my tender, vulnerable side.
Give me space to be alone.
Acknowledge the contributions I make, but don't flatter me.
I often speak in an assertive way. Don't automatically assume it's a personal attack.
When I scream, curse, and stomp around, try to remember that's just the way I am.
What I Like About Being a Eight
being independent and self-reliant
being able to take charge and meet challenges head on
being courageous, straightforward, and honest
getting all the enjoyment I can out of life
supporting, empowering, and protecting those close to me
upholding just causes
What's Hard About Being a Eight

overwhelming people with my bluntness; scaring them away when I don't intend to
being restless and impatient with others' incompetence
sticking my neck out for people and receiving no appreciation for it
never forgetting injuries or injustices
putting too much pressure on myself
getting high blood pressure when people don't obey the rules or when things don't go right
Eights as Children Often

are independent; have an inner strength and a fighting spirit
are sometimes loners
seize control so they won't be controlled
fugure out others' weaknesses
attack verbally or physically when provoked
take charge in the family because they perceive themselves as the strongest, or grow up in difficult or abusive surroundings
Eights as Parents
are often loyal, caring, involved, and devoted
are sometimes overprotective
can be demanding, controlling, and rigid
8. The confronter The aggressive power-seeker
"Power is the virtue that makes all other virtues possible."
- From the movie Enter the Dragon, starring Bruce Lee
8s come across as the toughest of the Enneagram personalities. At work, average eights can be assertive to a fault - they like to speak their minds bluntly, make quick but forceful decisions, and respect others who do the same. They demand and need a high degree of autonomy, and when they feel controlled by authority, they often show an unmistakable defiant streak. They are often shrewd in using circumstances to their material advantage. They do not like threats to their dominance, or people who hide information from them, and may force confrontations with others to get the truth, however uncomfortable it may be. 8s like to have the final say on things, but they may also give tremendous autonomy, within certain absolute limits, to subordinates they trust, which others find very empowering. Eights may show a softer side at home, where their strength is used not to dominate, but to protect. 8s are the prototypical "father figures", (even if they are women). When eights are secure in their dominance, they may expand their caring side by becoming magnanimous and generous. However, insecure 8s are the most tyrannical, destructive, and self-serving types. Many historically great world leaders are 8s, but so are many ordinary people who project a strong sense of being their own person, refusing to be used or led by others.
While some types dislike conflict (notably 9s and 7s), eights are energized by it. This ability helps them overcome obstacles that would crush a weaker person. For better or worse, during periods of historical crisis, it is often an eight (or someone with a strong eight wing), who comes to the forefront as a political or military leader.
Famous 8s
: Joseph Stalin, Henry Kissinger, Mick Jagger, King Henry VIII, Muhammad Ali, Julius Caesar, Vladimir Putin, Zhu Rongji Famous 8w7s: Pablo Picasso, Rosie O'Donnell, Lyndon Johnson Famous 8w9s: Sean Connery, Carl Sagan, Bruce Lee, Franklin Roosevelt
It is surprising how many 1s score as 8s on Enneagram tests. This is understandable: both 8s and 1s have a lot of core anger, and both tend to see the world in black-and-white terms. Both may set rules for others to follow. However, 1s feel guilty when they break their own rules, while the 8's feel much less bound by limits, even their own. 8s are much less prone to guilt than 1s, and more likely to delegate responsibilities, as opposed to 1s who often become overwhelmed with responsibility